Trusted Solar Panel Maintenance in San Diego, CA
Keep Your Solar Panels Properly Maintained
Having solar panels installed in your home is great for many reasons, including saving on energy bills and helping to take care of the environment. However, you will miss out on all of these benefits – and more – if you don't keep your solar panels properly maintained. If you are in San Diego, CA, and realize that your solar panels need maintenance and repair, reach out to Solare Energy to benefit from our decades of experience.
The Benefits of Solar Panel Maintenance
Unless something goes wrong, your solar panels should be sturdy enough to last many years without the need for significant maintenance. However, over the lifetime of your panels, maintenance is important to monitor their performance and keep them functioning at their best. Checking in on your panels can also help you optimize your energy consumption and savings, or identify upgrades that could be made to improve function and effectiveness.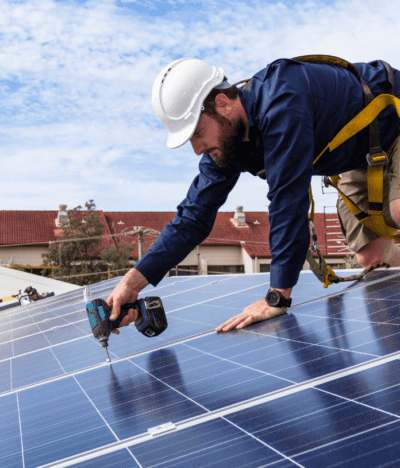 Solar Panel Maintenance with Solare Energy
At Solare Energy, we understand the problems that can arise when owning a solar array. We've made our solar panel maintenance experts available to all residents of San Diego, regardless of who installed your system. Don't hesitate to give us a call to take advantage of our solar panel maintenance services, or request a service quote online.
Solare Energy Maintenance Services
System Diagnostics. Our solar panel experts can conduct a complete system and production diagnostic to ensure your system is working properly, and at its best.
System Repair. If something goes wrong with your system, we will correct the issue for you and address any concerns you may have.
System Upgrade. We are here to help you upgrade your solar panel system. Whether you need panel additions, inverter upgrades, or something unique, we can help you.
Network & Monitoring. We use our online monitoring system to monitor your system's performance in real-time. If for whatever reason your solar panels stop performing up to the standard, we're here to offer support via phone or an on-site visit.
Electric Bill & Rate Structure Analysis. Using data from previous energy bills and key energy use systems, we develop energy-use profiles particular to each client that help us to give you the best possible savings on your energy bill.
Battery Backups. As Tesla Powerwall-certified installers, we have many battery options to give you peace of mind in case of a power outage.
Warranty Replacements. We will service any warranty replacements and work with the vendors to get replacement equipment on time. After we install your replacements, you can have peace of mind knowing they're backed by our 25-year workmanship warranty.
Troubleshooting Your Solar Panel System
If you notice a basic problem with your solar array, check out our troubleshooting guide to help you resolve your issue.
Alternatively, give us a call so we can help you figure it out, either over the phone or during an at-home visit.
Contact Us for Solar Maintenance in San Diego
Whether we initially installed your system or not, Solare Energy wants to help you take care of your solar array with quality solar panel maintenance services. Contact us today.